On Saturday October 18th, 2014, the Foundation for Human Rights in Cuba (FHRC) hosted the eighth annual Noche Tropical fundraising gala and auction. The theme this year was "Tropicana 2020," both an homage to when Cuba was free and a glimpse to when Cuba will be free again…
As guests poured into
the modern yet elegant JW Marriott Marquis in downtown Miami, they were greeted with the first sponsor of the night. A shiny white 2013 Kia Soul, which Ambar Motors generously donated and would be handed off to one lucky winner in an exclusive raffle drawing later in the evening!
After gliding up two sets of escalators, guests were lifted to the evening's Bacardi sponsored reception and silent auction village. In the mix were the night's featured speaker and 2010 Sakharov prize winning human rights activist  Guillermo "Coco" Fariñas. There were also members of the Ladies in White, former prisoners of Cuba's infamous Black Spring, current and former activists as well as many members of the Cuban exile community. There were also human rights supporters from South Florida's business, philanthropic and social circles. The room featured many exciting items to bid on including a collection of gently used, luxury women's handbags donated by members of the host committee, which created quite a stir.
However, the true "WoW" moment, courtesy of event producers "WoW Factor," was when the main doors opened to the ballroom. Guests poured in while being instantly transported to a futuristic Havana themed cabaret…Tropicana 2020: When Cuba will be free again! Cabaret dancers worked their moves on a two story stage, dancing to a lively music video featuring Pitbull's latest hit…Fireball.
When the dust settled, and guests were digging into their gourmet meals, the opening act took the stage. La Mulata del Sabor was an instant smash, bringing back many of famed Cuban singer Celia Cruz's most memorable songs.
After La Mulata's opening set, the close to 700 guests were welcomed by two very special emcees, including the charming and always entertaining Chef Pepín along with the lovely and talented Karen Caballero, award winning Marti Television anchor.
The program began with a convocation by Irma Mas, and brief remarks by FHRC's Executive Director Pedro Rodriguez, Event Chairman Tony Costa, and Chairman Emeritus Don Jerónimo Esteve. Then Connect Cuba spokesperson and star of the upcoming Hollywood film MAX STEEL, Ana Villafañe, gave guests a glimpse into the next phase of the campaign to empower Cuban civil society with open, uncensored access to the Internet. There was also a proclamation given to the Foundation by the Mayor and council members of the City of Doral.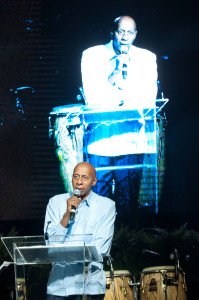 It was then time for a powerful video presentation of Cuba's bittersweet history as well as some strong images of Cuban activists current struggle for freedom and democracy. Guillermo Fariñas followed at the podium and gave a moving keynote address, inspiring everyone in the room to continue supporting the valiant effort by the brave men and women struggling nonviolently to bring about positive change on the Island.
Next came the moment to raise much needed funding for the cause. First up was WoW Factor CEO Jose "Pepe" Dans, who led the "open ask" and made an emotional plea to the captive audience, raising significant funds for Cuban children on Three Kings Day, The Ladies in White's Extending our Hands program, and Connect Cuba. Veteran auctioneer Jim Gall finished the program with an electric live auction which featured exotic vacations, Caribbean homes, and even a trip to next year's Prime Time Emmy Awards! 
after that, it was time to party once again and celebrate a successful fundraising event that broke records for all previous Noche Tropical galas! The night was capped with a second performance by La Mulata del Sabor, Hansel y Calle 8 and a full DJ set that led a young, fresh wave of human rights supporters to a packed dance floor for the second annual Noche Tropical after party, drawing close to 200 additional late night philanthropic revelers.
Of course ringing in the after party was the selection of the Ambar Motors car raffle winner….which of course, went to a group of Catholic nuns from a local Miami convent…truly a blessed night for human rights and a brighter future for Cuba and the Cuban diaspora around the world. 
 Video
The FHRC and Noche Tropical Presents Tropicana 2020 would like to thank everyone who made this night possible including its sponsors:
Sazón Goya, Don Jeronimo Esteve, Ryder, Bacardi, Ambar Motors, Simply Healthcare, WoW Factor, Florida Crystals, Florikan, LuxCom, GT Greenberg Traurig, Miami Marlins, Alzarez Arrietta & Diaz-Silvera, Akerman, JAG Companies, Coastal Wine & Spirits, Original Impressions, MasTec, Costa Farms, Leon Cosgrove, AFLAC, Altis Cardinal, Adrian Homes, Trane, Munilla Family Foundation, ACURA, Acosta Farms, Navarro Discount Pharmacy, Omega Farms, MBAF, Mahou, Dra. Maribel Santa Cruz, and Express Travel!
Photo Gallery (Mitchell Zacks)
[Best_Wordpress_Gallery gallery_type="thumbnails" theme_id="1″ gallery_id="3″ sort_by="order" order_by="asc" show_search_box="0″ search_box_width="180″ image_column_number="5″ images_per_page="30″ image_title="none" image_enable_page="1″ thumb_width="180″ thumb_height="90″ thumb_click_action="undefined" thumb_link_target="undefined" popup_fullscreen="0″ popup_autoplay="0″ popup_width="800″ popup_height="500″ popup_effect="fade" popup_interval="5″ popup_enable_filmstrip="1″ popup_filmstrip_height="70″ popup_enable_ctrl_btn="1″ popup_enable_fullscreen="1″ popup_enable_info="1″ popup_info_always_show="0″ popup_enable_rate="0″ popup_enable_comment="1″ popup_hit_counter="0″ popup_enable_facebook="1″ popup_enable_twitter="1″ popup_enable_google="1″ popup_enable_pinterest="0″ popup_enable_tumblr="0″ watermark_type="none" watermark_link="http://web-dorado.com"]