Following the arbitrary detention of Lady in White Aide Gallardo Salazar, and thanks to the presence of 23 members of the Ladies in White along with 17 other human rights activists, Gallardo was released on bail from a pending summary trial in the Municipal Court of Marianao with a deposit of 200 Cuban pesos ($6 U.S.D.).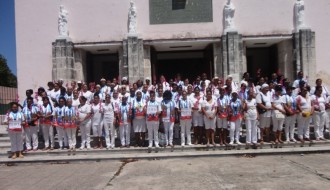 This past Sunday, Gallardo was arrested twice leaving her home to attend the weekly Mass at Saint Rita by Cuban State Security. On her third attempt, Gallardo left her house "in disguise" and managed to make it to the church so she could rejoin her sisters and march, once again down 5th Avenue as a member of the Ladies in White.
Meanwhile, another member, Sobrelis Turruella, denounced a severe beating she received at the hands of Cuba's political police, revealing her arm wrapped in a cast last Sunday in the park after the walk.